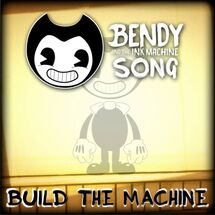 This article is about channel content, were you looking for the general DAGames page?
Since DAGames was founded in 2011, the channel has hosted over 1,000 uploads, amassing a total view count of over 470,000,000 views (Roughly 400,000 on average). However, the vast majority of uploads on DAGames fall very short of this average, as views tend to cluster around a few big hits.
Most Popular Videos
Edit
This is a list of the 10 most popular videos on the DAGames channel.
| Video Title | Date | Category | Viewcount |
| --- | --- | --- | --- |
| Build Our Machine (Bendy Song) | 2017-02-25 | Lyric Video | 91.745,181 |
| Break My Mind (FNAF4 Song) | 2015-07-26 | Lyric Video | 49,584,456 |
| Gospel of Dismay (Bendy Song) | 2017-06-24 | Lyric Video | 30,736,421 |
| Brothers In Arms (Cuphead Song) | 2018-02-24 | Lyric Video | 27,101,268 |
| It's Time To Die (FNAF3 Song) | 2015-02-28 | Lyric Video | 25,623,536 |
| Left Behind (Sister Location Song) | 2016-06-25 | Lyric Video | 18,604,248 |
| Flumpty's Jam (ONAF Song) | 2015-05-10 | Lyric Video | 16,544,726 |
| I'm The Purple Guy (FNAF3 Song) | 2015-03-21 | Lyric Video | 10,747,811 |
| Not Here All Night (FNAF Song) | 2015-04-13 | Lyric Video | 10,298,213 |
| DAGames Official Medley | 2015-04-13 | Lyric Video | 9,807,282 |
Last Updated 09 Feb, 2019